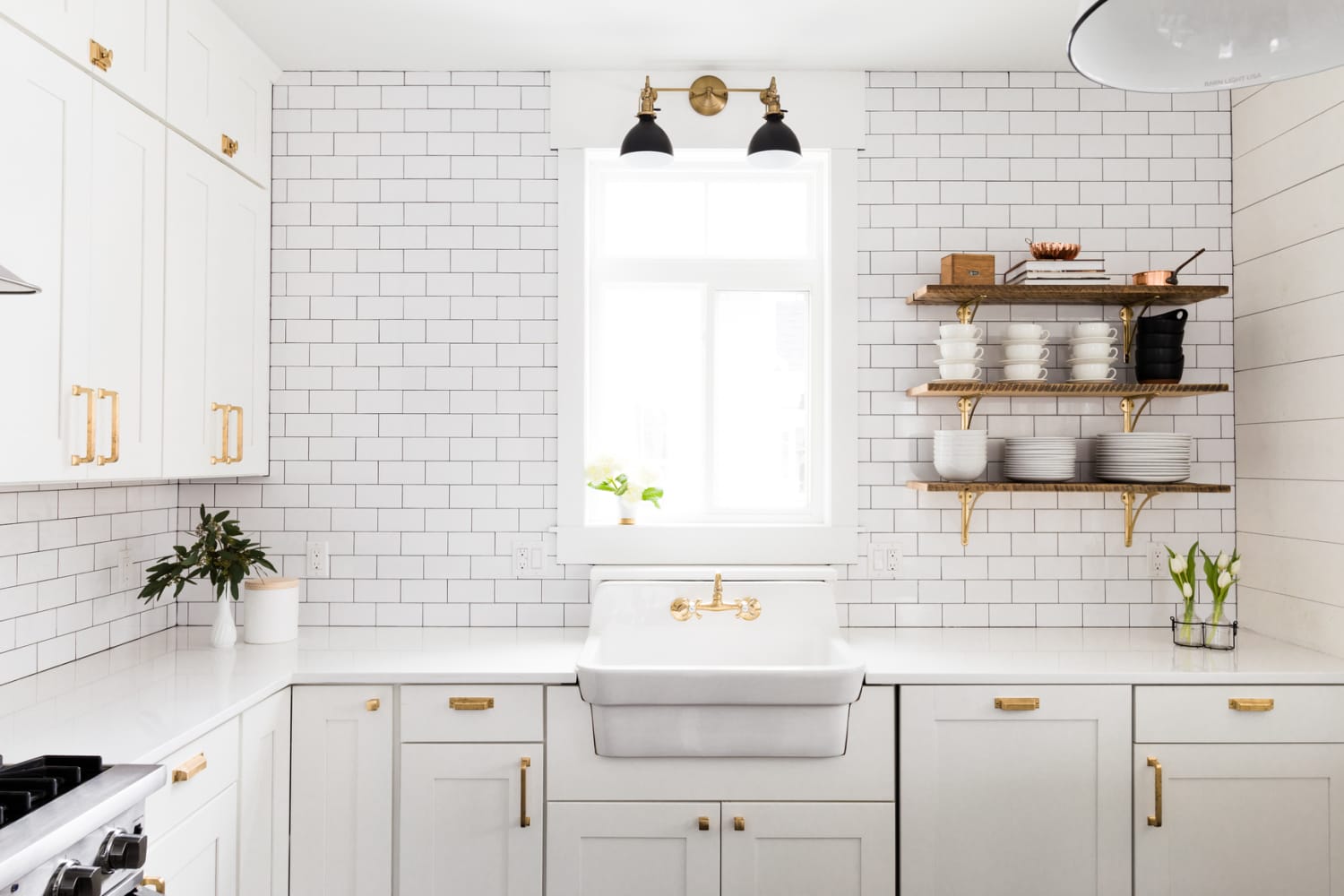 We independently select these products—if you buy from one of our links, we may earn a commission.
When it comes to designing a kitchen, choosing cabinet colors is just as pivotal as considering backsplashes, hardware, and countertops. Design website SemiStories could certainly attest to this design sentiment, so they enlisted the help of expert interior designers to break down some of the cabinet colors they're all coveting right now for their kitchens. Between vibrant wild card colors like fuchsia and tried and true classics like serene white, allow the following shades to provide some color inspiration for your next kitchen design venture.
For those keen on neutrals rather than bright splashes of color, designer Keita Turner recommends a subtle blue. Turner particularly loves the light neutrality of Blue Gray by Farrow & Ball. "I like how this weathered cool blue-gray can subtly shift between the two hues depending on the time of day because of its blue, green, and black pigmented undertones," Turner said. The timeless hue works well with warm, rich tones and metal finishes.
A classic white is always a solid go-to. Designer Ruqiya Imtiaz particularly loves Simply White by Benjamin Moore — because it "instantly adds warmth and feels welcoming in any naturally lit kitchen," Imtiaz said. The designer suggests contrasting countertops and textured or patterned backsplashes to add more drama to the shade.
Black and navy cabinets add striking contrast to a kitchen, and designers Catherine and Bryan Williamson of Beginning in the Middle are particularly big fans of the versatile Black Sable by Behr. "It's a chameleon color that changes from blue to green to gray to black over the course of the day," Catherine said. "It's bold and makes a statement without feeling bright or trendy."
For those who love to think outside of the box of more traditional colors, a rich fuchsia will give a kitchen a bold flare. Designer Eneia White is a fan of Dynamo by Sherwin-Williams. "Dynamic and saturated, I love the energy this color brings into kitchens designed around entertaining," White said. (Home bar, anyone?) 
An inky black will give a kitchen a luxurious and regal feel, and designer Mikel Welch is a big fan of the jewel-toned blue-green of Abysse by Ressource Paint. "There is nothing like a rich darker tone cabinet to give a space a regal and sophisticated feel," Welch said. "This color it's not for the faint of heart — it takes a confident kitchen to pull off Abysse." 
A cousin of classic white, a calming gray also makes for a solid neutral color. Designer Anissa Zajac of House Seven Design is a fan of Agreeable Gray by Sherwin-Williams. "Because it's so neutral, this color is versatile and complements most finishes and accent colors,"  Zajac said. Striking backsplashes and subway tiles would also agree with the hue. 
A rich blood red will give a kitchen a chic flare, and designer Britt Zunino of Studio DB is particularly fond of Bewitched by Benjamin Moore. "It feels unexpected and a little edgy, which is incredibly chic," Zunino said. "Plus, the saturated color reminds me of my favorite Chanel nail polish." The shade will offer a bewitching contrast to marble or glossy tiles.
To create a lighter environment, a neutral breezy blue will do the trick. Clare Paint founder Nicole Gibbons is a fan of the blue-green Headspace by Clare Paint. "It looks amazing on an island paired with marble countertops and is a great way to add color without overwhelming the space," Gibbons said. "It also pairs perfectly with warm whites."
Tell us: Which kitchen cabinet colors are you loving?