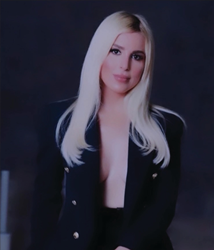 MIAMI (PRWEB)
November 05, 2021
The Haute Design Network, well known for its exclusive and luxurious lifestyle publication Haute Living, is privileged to present Arlyn Mateo, of AM House, as a member and expert in the interior design field. As a Haute Design partner, AM House exclusively represents the Interior Design market of Coral Gables, FL.
Designed as a partnership-driven luxury design portal featuring two leading interior designers in each prominent market across the world, Haute Design focuses on growing its member's brands as key influencers on design and deemed to be the best in their specific market.
ABOUT AM HOUSE
Arlyn Mateo, founder of the newly opened AM House, is an art curator and dealer that does not believe in a world of mass production and soulless acquisition. Art has to be made inviolable. A painting is not a thing, it has a soul, it has life, it brings emotion.
That's why she created an exquisite space that displays stunning art works that stimulate the viewer and leaves them wanting more. Arlyn is passionate about art and its undeniable influence in the global markets. She has a bachelor's degree in business administration, a master's degree in finance, and a master's degree in fine arts.
At the beginning of her career, she was focused on finding blue chip art for her clients, including pieces from the masters of the 21st century. This sparked the passion to be part of the discovery and establishment of new artists that will go down in history like the masters of this generation.
Since its inception, AM House established itself as a global artistic platform for the world's most distinctive talent.
The gallery, located in the most exclusive area of Coral Gables in Miami, made quite the impression. AM Gallery's design its quite something to admire and talk about. The space wants to offer the opportunity to not only acquire a piece of art you'll love, but to welcome people to learn and engage in art talks that the art community can feel free to share ideas, inspire, and create life.
The inception of AM House had one main goal, to create an open platform for global, brilliant and powerful talent. AM House sets out to be a platform that is a more welcoming vessel for revolutionary ideas to recognize excellence by merit. The gallery successfully introduces the foundation of the career of contemporary artists.
AM House exclusively represents artists from all over the globe, including the talented and renowned Juan Carlos Reyes, Melissa Mejía Risik, Aquiles Azar Billini, Eilen Jorge, and many others.

AM House also offers collectors pieces of blue chip art from the likes of Salvador Dalí, Andy Warhol, Joan Miró, Julie Curtis and many, many more.
Share article on social media or email: