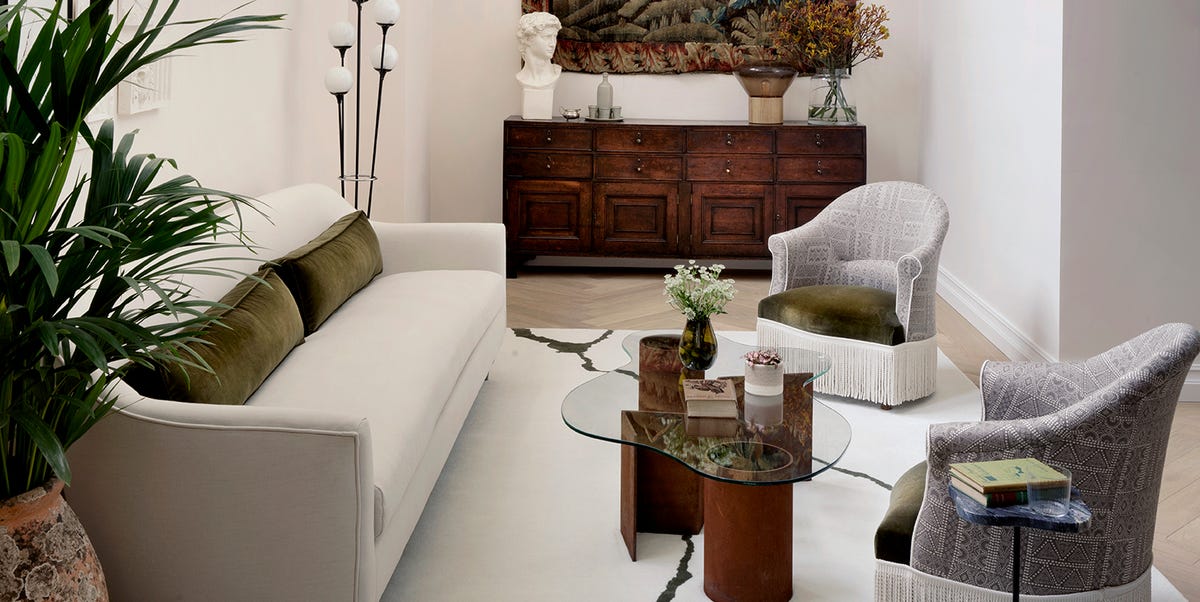 Pandora Taylor established her eponymous interior-design studio in 2018 and has since decorated dwellings from grand countryside manors to chic city townhouses in her signature sophisticated-yet-playful style. Here, she tells Town & Country about her greatest design inspirations, the brands inside her Little Black Book and the pieces she is currently coveting.
How would you describe your approach to design?
"I design intuitively, I try to immerse myself in the space: I feel the flow of the room, how much light comes through the windows and I think of who I am designing it for… then a picture starts to build in my mind. I can also get really inspired by one piece of furniture and a whole story will build out of that which I design around."
Where do you go for inspiration?
"Instagram has become such a fantastic inspirational tool – it really opens you up to makers and designers across the world that you wouldn't be exposed to in your normal life. I especially love seeing interiors from Australia. With such a different climate and way of life, they have such a fresh outlook."
What are some of your favourite British homes to explore?
"Definitely Sir John Soane's home in London – it really speaks to this maximalist style that is so popular at the moment. Both the home and gallery have become one in such a transportive environment. Soane's Pitzhanger Manor is also a wonderful source of inspiration: I love his use of scaligola as an affordable version to marble and it's something you don't see so much of anymore.
"I would also love to explore Nicky Haslam's old home, the Hunting Lodge. His recent furniture sale at Bonhams just showed so much creativity; he sees things differently to other people and there is such a sense of fun in the furniture he designs and sources.
"A while ago I visited Audley End House, which I highly recommend. It has such a variety of architectural styles inside, along with so many untouched areas, such as the dairy with its beautiful tiles and marble shelves."
Which brands do you return to again and again?
"I love Edition 94for tableware, especially their colourful cutlery, which you can mix and match. The Shop Floor Project is great for ceramics – and you can find the wonderful Claudia Rankin there, who does such fun, colourful pieces. I go to Kirsten Hecktermann for her hand-dyed velvet cushions. Viola Lanari makes beautiful handmade plaster wall lights and she has also partnered with Porta Romana on a collection including a side table and pendants.
"For something elegant and interesting I go to Richard Taylor Designs – he makes exquisite lighting and interestingly sculptural metal tables. If I need natural timber, I always go to Sebastian Coxfor its custom coffee tables and woven benches, as well as Heerenhuis, which has a lovely collection of solid timber dining tables. I love Lorfords and Rose Uniacke for their traditional style and amazingly comfortable sofas, whilst I like to keep it modern for statement chairs and look to Monologue."
Do you have any tips for mixing antique treasures with modern finds?
"I tend to purchase modern pieces when I am looking for practical items like sofas and dining tables, where function really is key as it is used so often. So, don't be afraid to be bold with your antiques; find pieces that charm you and make you smile. Don't worry if they are a bit rickety or chipped or – dare I say it – impractical. Their role is to bring humour to a space and provide an intriguing contrast."
Are there any pieces you currently have your eye on?
"I'd love an Arteluce table lamp by Cini Boeri. I bought one for a project a while ago and have been on the lookout for one for myself ever since. There is just something so unexpected about how oversized it is – I love anything that subverts our assumptions on proportion and shape."
What are you working on at the moment?
"I am working on a fantastic project in the Hamptons for a repeat client. It is so much fun to work on something with such a different narrative, it is great to get out of the usual comfort zone and means I can use styles and suppliers that I might not normally be able to use. I'm also nearing completion on a family home in Dorset that is set within the most beautiful landscape – it's a real bucolic vision and will be finishing in spring, just in time for it to sing amongst the greenery."
Can you offer any design tips for those wanting to be more creative with their decor?
"The phrase I have heard most from people who want to be more creative but are struggling is 'But what if I get bored of it?' I totally understand this rationale, especially when you need to spend money on something. You want it to have longevity, so sometimes it seems easier
to play it safe. But where is the fun in that? As long as you choose something you love, you won't regret it."
Do you have any simple tricks for refreshing your home for springtime?
"Fresh flowers! I just love when they start selling daffodils in the supermarket – they are so joyous in full bloom with their unashamed burst of yellow, you just know summer is around the corner.
"Simple things like a different throw can instantly change the ambience in a room, too. I have a lovely thick quilt on my bed over winter, and when spring comes I bring out a thinner linen number in subtle greens and pinks. It looks so fresh and uplifting when the room is flooded with sunlight and helps keep me cool when moving into warmer temperatures."
www.pandorataylor.co.uk; @pandorataylor
This content is created and maintained by a third party, and imported onto this page to help users provide their email addresses. You may be able to find more information about this and similar content at piano.io