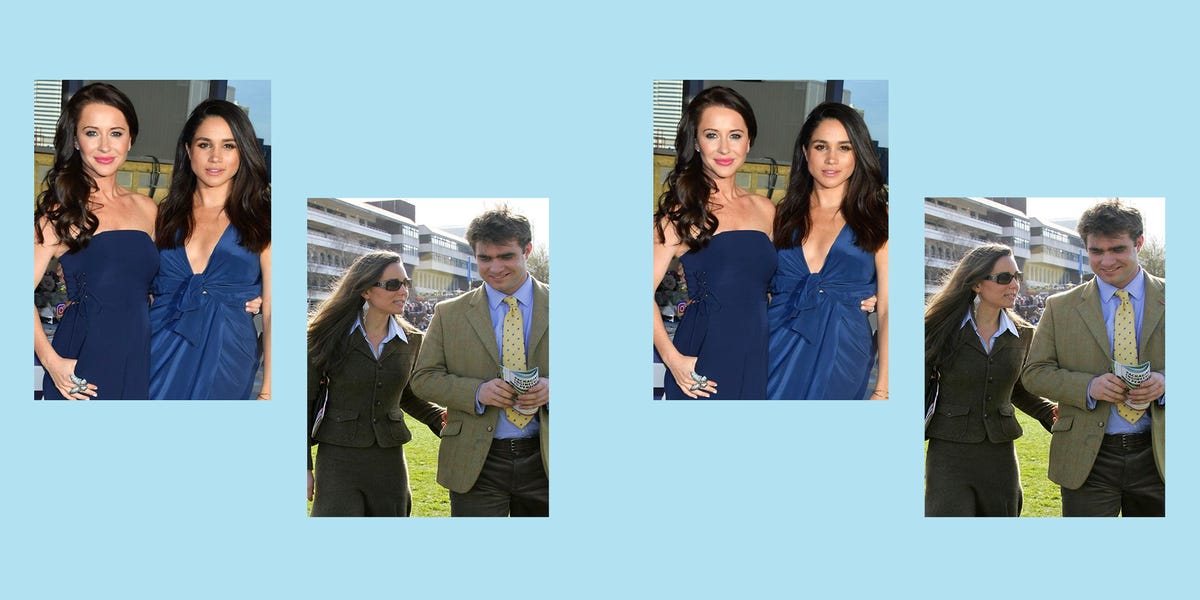 Life as a royal must be both brilliant and challenging in equal measure, making good friends a real essential. But who exactly are the people that make up Meghan Markle's inner circle, and who do Prince William and Kate Middleton have on speed dial? Here's a round-up of the royal family and their closest confidants over the years.
Who are Meghan Markle's best friends?
Jessica Mulroney
The Canadian stylist (who hosts the wedding do-over reality show, I Do, Redo) has been best friends with Meghan ever since the pair met in Toronto, where Meghan lived while filming Suits, likely back in 2011. Jessica's daughter Ivy was a bridesmaid at Meghan and Harry's wedding and her twins, Brian and John, were pageboys too. Last year, Jessica uploaded a quote to Instagram which read: "When someone faces unfair criticism, you call it out. When that person is your friend and your family, you call those critics what they truly are: shame on you, you racist bullies", which many took to be in reference to Meghan's treatment from some of the tabloids at the time. Clearly, she's got Meghan's back through and through.
Lindsay Roth

Lindsay and Meghan met at Northwestern University School of Communication, which they both graduated from in 2003, and have remained close, with The Duchess of Sussex taking on the role of maid of honour at Lindsay's wedding in 2016. Meghan even arranged a surprise trip for Lindsay ahead of her wedding day, flying her out to Toronto for a private dress fitting. Speaking to the New York Times about the gesture, Lindsay said: "I felt like the most special bride." She's been a vocal public supporter of Meghan on many other occasions too, notably when she posted about the cookbook Meghan wrote the foreword to in support of the victims of the tragic Grenfell Tower fire, writing: "Something about Meg that most people don't know is that she's always brought people and communities together through food. From helping at soup kitchens as a little girl to donating her time and food to shelters while living in Toronto. M, I'm so proud of you!"
This content is imported from Instagram. You may be able to find the same content in another format, or you may be able to find more information, at their web site.
Genevieve Hillis
Like Lindsay, Genevieve met Meghan at university and the three quickly formed a tight trio – they were also all sorority sisters in the Kappa Kappa Gamma sorority. Here they are all pictured together having a good catch up at Wimbledon in 2019, a few months after Genevieve reportedly helped Serena Williams (another good pal of Meghan's) to plan The Duchess' New York baby shower.
Heather Dorak
Meghan was recently spotted collecting Pilates instructor Heather from an airport in Canada, when her and Harry spent a few months there at the start of the year. Heather and Meghan have been close for over ten years, ever since the latter started training in Heather's Platinum Pilates studio. For her birthday back in 2016, Heather gave Meghan a shout out alongside posting a fun picture of the pair on holiday.
This content is imported from Instagram. You may be able to find the same content in another format, or you may be able to find more information, at their web site.
Who are Kate Middleton's best friends?
Emilia Jardine-Paterson
Emilia met The Duchess of Cambridge while studying at Marlborough College and the pair have remained close ever since, with her now one of Prince George's seven godparents. It's thought that she even introduced the royals to one another (having met William through mutual friends) and that when Kate and William had a brief split in 2007, Emilia accompanied her friend on a trip to Ibiza to recover from the heartbreak – the sign of a true pal. She owns an interior design company and is rumoured to have assisted Kate with re-vamping Kensington Palace. The dream job, surely?
Oliver Baker
The Duke and Duchess of Cambridge met Oliver when they studied at St. Andrew's University in Scotland and are thought to have house-shared with him during their final two years there. Oliver, who played rugby with William and is one of Prince George's godparents, now reportedly works in banking and is super tight-lipped about his royal connections. His wife, Mel, is also a great long-term friend of Kate's.
Lady Laura Meade
Given that she's the daughter of the Earl of Romney, Laura is more that adept at rubbing shoulders with the upper echelons of society. She's the wife of one of Prince William's closest friends (James Meade, who co-made the best man's speech at Kate and William's wedding in 2011… hey, we did say the royals' inner circle was small) and is Prince Louis' godmother.
Who are Prince Harry's best friends?
Charlie van Straubenzee
Prince Harry's best friend, Charlie van Straubenzee, is one of baby Archie's godparents – fair enough really, given that he's a part of a family who've long been close to the royals (he and his brother Thomas, who is Princess Charlotte's godfather, attended Ludgrove School with Harry and William). Prince Harry served as best man at Charlie's wedding to Daisy Jenks in August 2018, just a couple of months after Harry and Meghan's own wedding.
Tom 'Skippy' Inskip
A pal of Harry's since childhood (they both attended Eton) and his former "wingman", Skippy is well connected – his father, Owen Inskip, is good a friend of Prince Charles and David Cameron. Skippy was in the hotel room in Las Vegas when those strip poker pictures were leaked in 2012. There were reports that Skippy and Harry (who was an usher at Skippy's wedding to Lara Hughes-Young) recently fell out for a period of time, but that they reconciled over the loss of Lara's mother, which prompted her to raise money for the royal-endorsed mental health charity, Heads Together.
Who are Prince William's best friends?
James Meade
As mentioned earlier, both James (who is the son of an Olympian) and his wife Laura are close friends with William and Kate – with James delivering a speech at their royal wedding. William had the honour of being an usher on James' big day too, which makes sense given that the pair have been thick as thieves since their Eton College days. James is Princess Charlotte's godfather.
Thomas van Straubenzee
Thomas shares the honour of being Princess Charlotte's godfather too, after first meeting William at Ludgrove prep school (you may have spotted that his brother Charlie is close friends with Harry). Along with James Meade, Thomas was an usher at the royal wedding in 2011 and Prince William held the same role at Thomas' 2013 nuptials. He's been there for all the big milestones in William's life.
Guy Pelly
Nightclub owner Guy (who previously ran London's Mahiki) was named as one of Prince Louis' godparents and has known both the princes since childhood; his mother, Lady Carolyn Herbert, was friends with Princess Diana. His reputation for fun is well-known and it's thought that he was responsible for organising Prince William's stag do (although reports say this was actually a pretty tame trip to Devon in the end). He's married to Lizzy Wilson, whose family own the Holiday Inn chain.
The Van Cutsems
The Van Cutsem family go way back with the royals – the two households became entwined after Hugh Van Cutsem Snr became close friends with Prince Charles at Cambridge. Hugh's four sons (Hugh Jr, Nicholas, Edward and William) have been a staple feature in the princes' inner circle ever since – Hugh Van Cutsem Jr is the father of Grace Van Cutsem (who you may know better as the Grumpy Bridesmaid from the royal wedding). William Van Cutsem (who is closest in age to Prince William) was named as one of Prince George's godfathers in 2013, with Nicholas receiving the same honour at Prince Louis' christening a few years later. Edward, the eldest of the four brothers, is Charles' godson.
Who are The Queen's best friends?
Lady Celia Vestry
The wife of Lord Samuel Vestey (who held the very fancy title 'Master of the Horse to the Royal Household') has long been counted as one of in Her Majesty's good friends. Like her husband and the Queen, she's a big fan of horses and is one of Prince Harry's godparents. Celia's eldest son, William, was a Page of Honour to the Queen during his teenage years too.
Penelope Knatchbull
More commonly referred to as Penny (or for official purposes the Countess Mountbatten of Burma), she too shares a keen interest in horses with The Queen. If the name Mountbatten sounds familiar, it's because Prince Philip's surname is Mountbatten (and other royals, including Archie, use the surname Mountbatten-Windsor) and Penny was once married to the 3rd Earl Mountbatten of Burma (a close friend of Prince Charles). These days, she heads up a charity and has been spotted with the Queen and Prince Philip on numerous dates, including church services and sporting events.
Cosmopolitan UK's June issue is out now and available for purchase online and via Readly. You can also SUBSCRIBE HERE or read on Apple News+. Find our podcast 'All The Way With…' on Spotify, Apple Podcasts and the Acast app.
Like this article? Sign up to our newsletter to get more articles like this delivered straight to your inbox.
This content is created and maintained by a third party, and imported onto this page to help users provide their email addresses. You may be able to find more information about this and similar content at piano.io